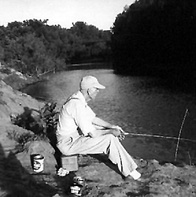 Raytown, Missouri in the mid-1950's was not the most exciting place for a young boy growing up, especially when released from school during the long, hot midwestern summers. Imagine if you can a small, landlocked community with no shopping center and only a drive-in movie theater at the edge of town for entertainment. Got the picture? I suppose we were lucky just to stay out of trouble, except there wasn't much to get into trouble with. Instead, we entertained ourselves with baseball on our block's one vacant lot, or with a specially organized nighttime game of hide-and-go-seek in which we would allow the neighborhood girls to play. But excitement of the event-driven variety consisted pretty much of things like the annual re-oiling of our tar-and-gravel streets or a late-summer trek into Kansas City to buy new clothes for school. Although I don't recall ever being really bored, the simple fact is not much happened in Raytown.
I had grandparents who lived fifty miles away in a town named Warrensburg and every summer they would invite me to come and spend a few weeks with them. Warrensburg was a small college town and also the county seat of Johnson County. In earlier days Dale Carnegie, too poor to live on campus, rode his pony back and forth to the college. And a Senator Graham Vest had immortalized dog as man's best friend in a heartrending speech during a trial about the shooting of a local farmer's mongrel, Old Drum. I always looked forward to spending part of my summers in Warrensburg, which was also the place of my birth.
I'm no Tom Sawyer, but I suppose living in Manhattan for the past twenty-five years has produced in me a longing—or at least a fondness for—the simple things of the times and places of my childhood in Missouri. Like Thomas Wolfe, I realize I can't go home again, but I take a certain comfort in revisiting them. Take fishing, for example.
About six years ago a good friend reintroduced me to fishing. After not having fished since I was a teenager, he loaned me one of his many rods and reels, and TWA and I schlepped them back to Raytown on one of my not-too-regular visits home. I caught my first fish, a keeper largemouth bass, in perhaps thirty years. Pardon the pun, but from that moment on I was hooked again. The following Christmas, with the same friend's help, my wife gave me a new rod and reel—the first of several that I've since accumulated.
For several years now I've been going upstate in New York to fish the Adirondacks and Lake Champlain. What's amazing to me about much of fishing today is how it has become this highly evolved, highly technical and often highly competitive "sport." If you don't have a $30,000 high-performance bass boat with a 200 horsepower engine you're almost out of the game. Why would one need such a fast, powerful boat just to do a little fishing, you might ask?
The answer is bass tournaments. There is a whole industry out there of boat and tackle manufacturers that is driving this phenomena. Big prize money goes to the guy, or team, who can haul in the most tonnage of fish in a limited number of hours. The idea is to not waste time getting to and from where you actually want to do your fishing. So a boat that hauls ass at 70 mph gives you much less down time. I've fished numerous times in these high-performance crafts and they are, indeed, marvels of engineering and a thrill to experience. But when it comes right down to it I really don't give a flying fig if I catch many fish or not. Fishing is not, in my opinion, about how many you catch, or how big they are. And it is certainly not about competition and prize money. If you want that kind of competition, get on the NASCAR circuit. For me, fishing is about nature, serenity and solitude. It's about not being rushed. So I have this attitude about fishing. I got it from my grandfather.
My grandfather was a tall, Lincolnesque man. Although he grew up in farming communities with names like Liberal and Deepwater, he had long since stopped dressing like the farmers of the area. He was, after all, a retired electrician. Instead, he usually wore some sort of khakis and he always wore long-sleeved shirts--even on the hottest days of the summer. He claimed that a long-sleeved shirt actually kept a man cooler and, although his hands were tanned, he didn't like getting sunburned. He dressed exactly the same way in the winter--the only difference being the addition of a union suit underneath the khaki pants and long-sleeved shirt
I never saw my grandfather in a hurry to get anywhere. In fact, he gave new meaning to the word walk. Not that he was slow or hesitant. He just sort of-- ambled. He had a slight "Howdy Doody" gait, as if there were strings attached to his knees. Sometimes, when he couldn't see me, I would try to mimic the way he walked, but could never get it quite right.
I remember his face. He had a high forehead accented by a farmer's tan which, when he took off his straw hat, seemed to make his head instantly grow four inches taller. His hair was thin and fine, and, of course, gray. He had all the usual wrinkles of an older person, yet my grandfather's wrinkles were soft--while still reflecting a strong character. The thing I remember most about his face was his earlobes. They were kind of long and droopy and I thought they looked like soft, dried apricots. I loved to climb up on his armchair and take an earlobe between my thumb and forefinger and just sort of fiddle with it, while teasing him and asking him how his lobes got to be the way they were.
Granddad, as we called him, had what I now realize was a highly evolved sense of humor. Not just the quick wit or joke-telling variety--although he was always cutting up--but rather, he had the ability to find amusement in the most ordinary things. I remember once we had this toy hand puppet. It was a little tiger cub that you could put your hand into and work its head and arms by moving your fingers. With its glass eyes and kitten-like ears, it was adorable and quite realistic looking. Well, someone left the puppet in his armchair one day and as he sat down, he picked it up and started to play with it. He put it on his hand and got completely engrossed with it. Every now and then he would chuckle as he made the cub wave or clap its hands. "Isn't this the dangdest thing you ever did see?," he'd say. That puppet was funny to my grandfather and he in turn was funny to anyone watching him play with it.
He liked simple things: baseball, fried chicken. Tennessee Ernie Ford. He liked his garden and he was good with his hands. He was neat and orderly and would always finish one job before moving on to the next. He wasted nothing and would buy no more of a thing than he actually needed. At dinner he would completely clean his plate, mopping up that last bit of gravy or whatever with a piece of bread. For the longest time he had me honestly believing my grandmother would put his plate back in the cupboard without washing it, he left it so clean. OK, so I wasn't that bright.
But I digress. Almost every day, during those summers in Warrensburg, was a fishing day. In fact, my grandfather had the reputation in our extended family as being The Big Fisherman. He loved to fish, not so much for the sport, but simply as something fun and relaxing to do. He didn't go in for all the fancy stuff like fly casting or getting out in the water with wading boots. He didn't own a boat. And almost always he would fish alone, the exception being when I was visiting. Fishing to him was something you did to get away and be quiet for a few hours. Of course, if you did catch some fish, that was fine too.
A fishing day would begin, of course, by getting up early. Those wee morning hours were my favorite and perhaps that's why I'm still an early riser today. You could always hear turtle doves cooing to each other as the dawn would break. Pigeons gurgling on my Manhattan window sill just don't have the same appeal. We'd then go out in the garden with a large coffee can and a pitch fork to dig up our day's fishing bait. Earthworms were what we used most of the time. You'd have to get them early in the morning before it got too hot. That way the worms would be near the surface of the ground. There was never any shortage of them, either. Granddad would turn the soil and I'd follow along behind and pick up the squiggling nightcrawlers. I'd drop them into a Folger's can which I'd already prepped with an inch or two of moist dirt so they would feel right at home.
Then we'd come back in the house and have breakfast. Sometimes Granny would be up and fix it for us. My grandfather never failed to have a bowl of All Bran--kept him regular--then maybe a poached egg and some bacon. I usually ate the same thing, although I couldn't handle the All Bran on a daily basis and found myself alternating it with shredded wheat or frosted flakes or whatever.
And then it would be time to get started. I'd usually take charge of getting all our gear together and putting it into the car. I had my own tackle box which was a smaller version of my grandfather's. In these boxes we kept an assortment of hooks, sinkers, bobbers, line, band-aids, a fancy tied fly or two for show, and some dirty rags with which to wipe worm juice off our fingers. In the bottom of my grandfather's box was one other item--a pouch of Beechnut Chewing Tobacco. Granny never let on that she knew about it.
Along with the tackle boxes were our rods and reels, the hooks tucked neatly into the eyelets of the rods to keep them from getting caught on anything--like my pants. There would usually be a thermos of something to drink and maybe even some sandwiches if we expected it to be a long day. And, of course, there was the stringer. The stringer showed you were serious about catching some fish. It was a crude, cruel looking metal contraption that consisted of a dozen or so giant safety-pin-like devices attached equidistantly onto a chain about four feet long. This was to keep the fish on once they were caught. You'd open a pin, slip the end into the fish's mouth and snake it down and back out its gill on the side. When it was refastened, the doomed fish would be secured to the chain which would then be placed in the water to keep it alive.
Perhaps what's more revealing is what we didn't take fishing with us. We didn't take lawn chairs to sit in--we would stand or else sit on our tackle boxes. We also didn't take any radios or books or anything else that didn't have anything directly to do with fishing--although a couple of times Granddad would take an old twenty-two with him. I remember him shooting it only once--at a mud turtle that ventured too close to his line.
We'd usually go to "the creek," as we called it. The creek was actually the Blackwater River, a meandering stream about ten miles north of town. After turning off the main two-lane blacktop, we'd go a couple of miles on a gravel road until we came to an old condemned bridge that spanned the creek. Once the car was parked on the shoulder of the gravel road, we'd walk about a quarter of a mile upstream to our favorite place.
When we arrived at our place we would climb down the bank and set up shop. And we fished. More often than not, the fishing really wasn't very good. At least, that is, we didn't catch many fish. I would bait my hook, cast out into the muddy water, and then settle down to watch my bobber on the water's surface as the rings made by its splash spread ever outward, eventually disappearing. And that was it! The most exciting part of fishing was over. The anticipation, the getting ready, the packing and the traveling were all behind us now. The rest was just waiting. Waiting for the fish to bite. Oh, there were times when they did bite and that truly was exciting. Sensing the subtle tug on the line. Watching the bobber suddenly disappear below the surface. Feeling the line get heavier and heavier as the fish tried desperately to get away. But what fish we did catch were seldom large ones and, more often than not, we got more bites from the bugs.
I didn't care, though. Not really. Because what was important in those days--what I loved most--was just being with my grandfather. We would sit there for hours, sometimes talking, but usually just sitting in silence. And sometimes it was even boring. Yet there was always the hope that, at any moment, a big fish would bite. So I learned patience fishing with my grandfather. I learned that life is not always about landing the big one. And I also learned to anticipate and to hope. And to be ready.
At the end of the day we would pull in the stringer and if there were any fish on it we would have them for dinner that night with some vegetables from the garden where we got the worms. If not, Granny would make fried chicken. That was OK, too.
---